Summer fruit with XAVIES' granola and coconut milk
Summer fruit with XAVIES' granola and coconut milk
Breakfast is the start of your day, the moment your body gets its energy to start the day right. Starting your day with a nutritious breakfast increases the chances that you will make healthier choices during the day.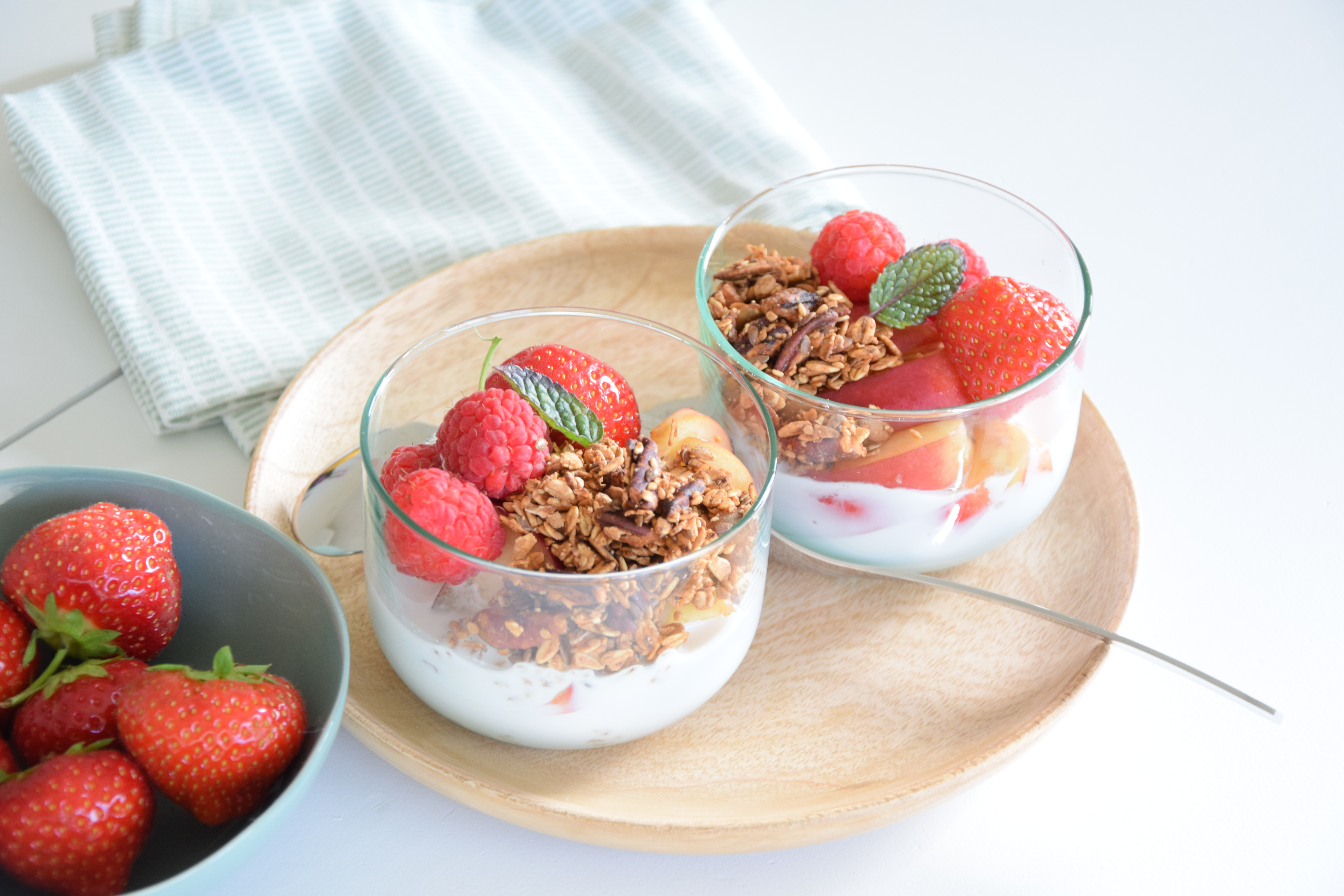 We always start our day with a breakfast with fresh seasonal fruit and our handmade granolas. Granola is a mix of oat flakes, nuts, pits and seeds, crispy baked in the oven. With a fruit breakfast and granola, the variations are endless. It is also a great and easy breakfast during the week: cut a piece of fruit, add some yogurt, a tablespoon of granola and you have a complete breakfast.
If you're not such a big fan of yogurt, then there are many tasty and healthy yogurt alternatives. Here, for example, we used coconut milk, deliciously creamy with an extra exotic taste! Coconut milk also contains healthy vegetable fats, which give you have a full feeling for a long time.
Ingredients
1 nectarine
10 strawberries
6 raspberries
100 ml coconut milk
Preparation
Take 2 glasses. Pour 50 ml of coconut milk in each glass. Cut the nectarine in half and cut each half into 5 thick slices.
Pick the stalks from the strawberries and halve them.
Divide the fruit over the 2 glasses in the coconut milk and finish with a tablespoon of XAVIES' pecan-ginger granola.
Granola is perfect for a healthy fruit breakfast; for more quick healthy breakfasts, check out our granola breakfast with red fruit recipe. If you're a fan of our pecan-ginger granola, then we have another recipe with mango and apple and our limited edition granola.