Handmade granola - Free delivery above €25 - 10% discount above 5kg
Bliss balls with XAVIES' Granola
This healthy snack is delicious, healthy and easy to make.
Lets eat.
Ingredients
150 gr good juicy dates
50 gr mixed nuts of your choice
50 gr XAVIES' Pure Toasted Granola
50 gr nut pasta of your choice (almond, hazelnut, peanut)
50 ml of melted extra virgin coconut oil
Extra: three tablespoons of Xavie's Toasted Seeds, for decoration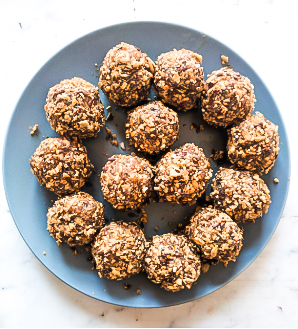 Preparation
- Melt the coconut oil in a saucepan over a low heat. Allow to cool down.
- Meanwhile, place the three tablespoons of Xavie's Toasted Seeds in a food processor and pulse to coarse grains (1 to 3 mm). Keep separate in a bowl.
- Chop the dates and nuts coarsely and put them in the food processor, together with the nut paste and the cooled coconut oil. Blend until you get a homogenous mass. If necessary, add a small amount of hot water if the dates were slightly dehydrated.
- Then add the Toasted Granola to the dates, and blend together until the pieces of granola are about half a centimeter in size. We want another tasty bite.
- Check whether you can squeeze this dough of dates and granola into small balls. If not, add a little bit of hot water or melted coconut oil and pulse a few more times.
- Make 12 to 16 small balls with moist hands. Press them well and then roll them through the coarse ground Toasted Seeds.
- Place the bliss balls in the refrigerator so that the coconut oil can solidify and the balls become firm.