XAVIES' Granola with red fruit
Do you like to indulge yourself with a delicious portion of fruit every day? With this simple recipe for a healthy breakfast, every day will be like Sunday morning. A simple healthy breakfast with nuts, granola, red fruit and natural yogurt. The perfect way to have a healthy breakfast on a busy morning in the week.
Mix different red fruits in a bowl, add some yogurt, two tablespoons of granola and your breakfast is ready. In no time, you will be able to put this nutritious treat on the table for you and your family! Not quite sweet enough for the kids? Make a coulis of red fruit, and add it to the breakfast! The fruit breakfast has been transformed into a child-friendly healthy breakfast! With this fruit sauce it is even more delicious!
To add some extra freshness to the breakfast, I pour some limejuice over it. The fresh touch of lime fits perfectly with the baked granola nuts-seeds and the red fruit!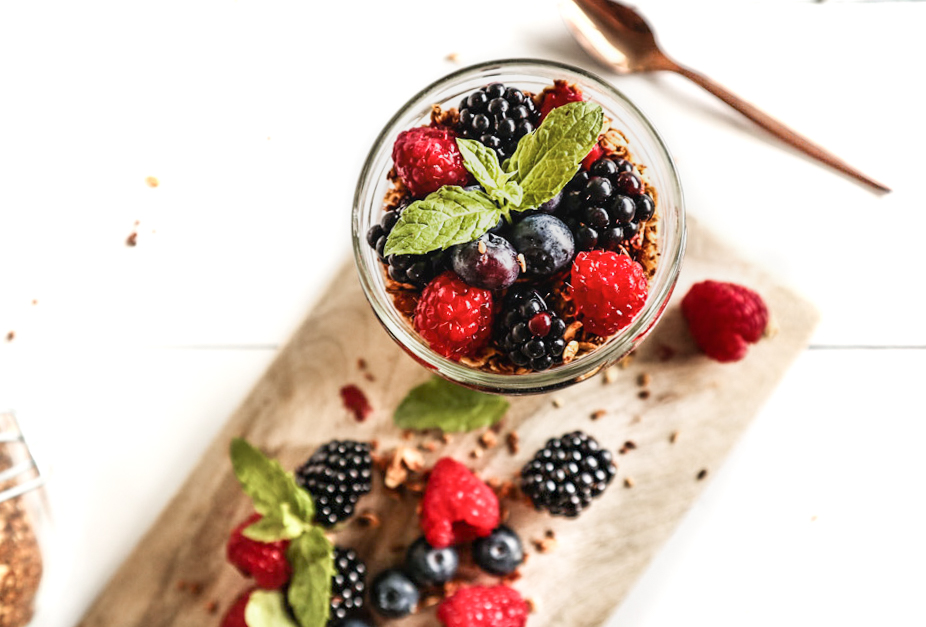 Ingredients
Mixed red fruits (strawberries, raspberries, blueberries, blackberries)
Plain yogurt
Lime
Mint
Preparation
Divide the red fruits in breakfast bowls.
Drizzle with a little limejuice.
Add the yogurt.
Sprinkle XAVIES' nuts-seeds granola over the yogurt and finish with a mint leaf.
The perfect start of the day!
Tip!
Want it a bit more festive on a real Sunday morning? :-) Then take a look at the recipe of our Granola Parfait!