XAVIES' Granola - "Your healthy pleasure!"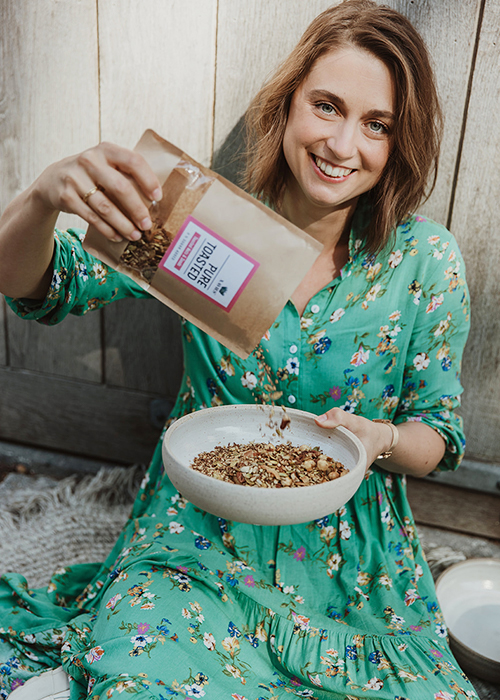 XAVIES' GRANOLA is my passion. A passion that starts with the selection of the ingredients and the artisanal preparation. A passion that ends with your breakfast, with fresh, healthy GRANOLA, full of fiber, vitamins and minerals.
My goal is to provide you with fresh, healthy and hand-mixed breakfast cereals. I use foods in their natural form without additives, artificial chemicals, dyes or preservatives.
My artisanal cereals are different and yet similar. They differ in taste and texture, but they are all made with the same delicious basic ingredients.
The carefully selected whole grains, pits and seeds are mixed with delicious seasonings. The mixture is sweetened with agave syrup. This syrup is 25% sweeter than regular sugar, so we have to add much less to get the same great taste. Agave syrup also has a low glycemic index. This means that the sugars are absorbed slowly into the blood stream and provide sufficient energy for a long time. The basic mixture is then baked in the oven to crispy, fragrant GRANOLA.
XAVIES' GRANOLA is bursting with vitamins and minerals. The whole grains provide sufficient fiber, good for a long feeling of satiation. The pits and seeds provide polyunsaturated fatty acids, such as the essential omega-3 fatty acids.
A good breakfast is the best start of the day. XAVIES' GRANOLA is very nutritious and a great way to start your day in a healthy and energetic manner.
XAVIES' GRANOLA is delicious at breakfast with yoghurt or fresh fruit, as a snack to satisfy a craving and surprisingly tasty in a healthy dessert.
Assortment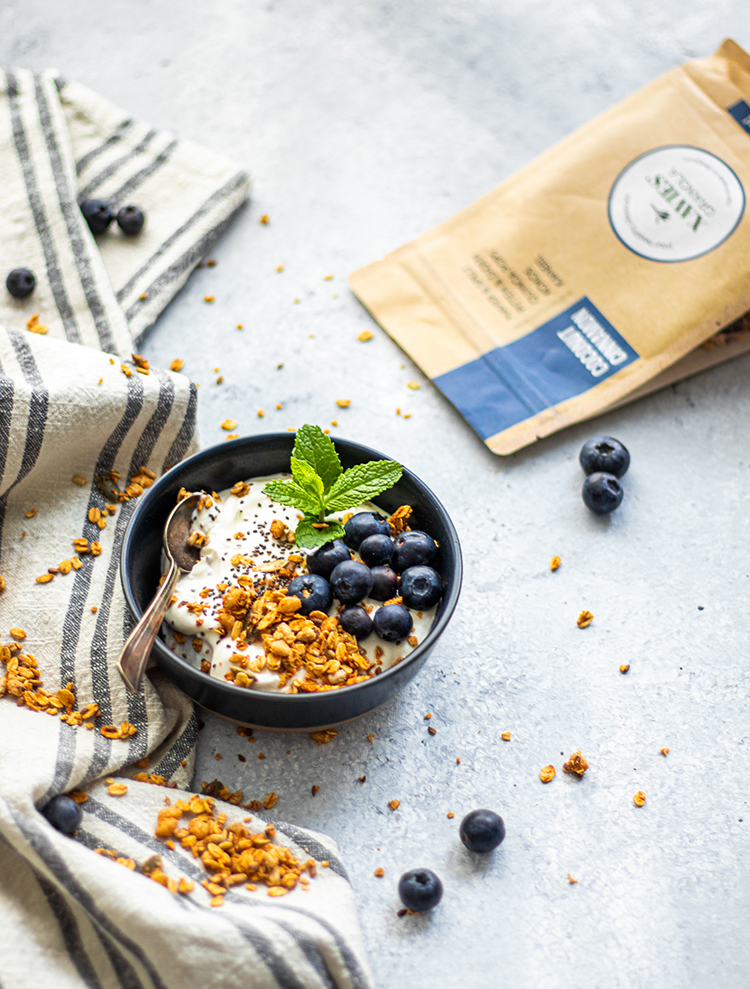 This delicacy consists of 3 different assortments:
On the one hand there is the GRANOVIE assortment. Each variety consists of oat flakes and spelt flakes and is complemented by tasty extras:
Coconut-Cinnamon: sunflower- and pumpkin seeds, coconut and cinnamon.
Double-Chocolate: nuts, coconut, dark chocolate and cacao nibs.
Strawberry-Quinoa: freeze-dried strawberry and puffed quinoa.
Nuts-Chocolate: seeds, nuts and delicious dark chocolate.
Extra-Seeds: linseeds, sesame seeds, sunflower- and pumpkin seeds.
Nuts-Seeds: extra seeds, almonds, hazelnuts and walnuts
On the other hand our PURE TOASTED assortment, with three delicious,  granolas that fit perfectly within a healthy diet. Mixes of toasted seeds, whether or not combined with nuts and/or crunchy baked oat flakes.
Pure Toasted Granola
Pure Toasted Nuts & Seeds
Pure Toasted Seeds
Finally, we also have our SANDRA BEKKARI assortment.
Cashew Pumpkin seeds: 0% ADDED SUGAR
Hazelnut Almond <5% ADDED SUGAR
Turmeric Quinoa: SAVORY granola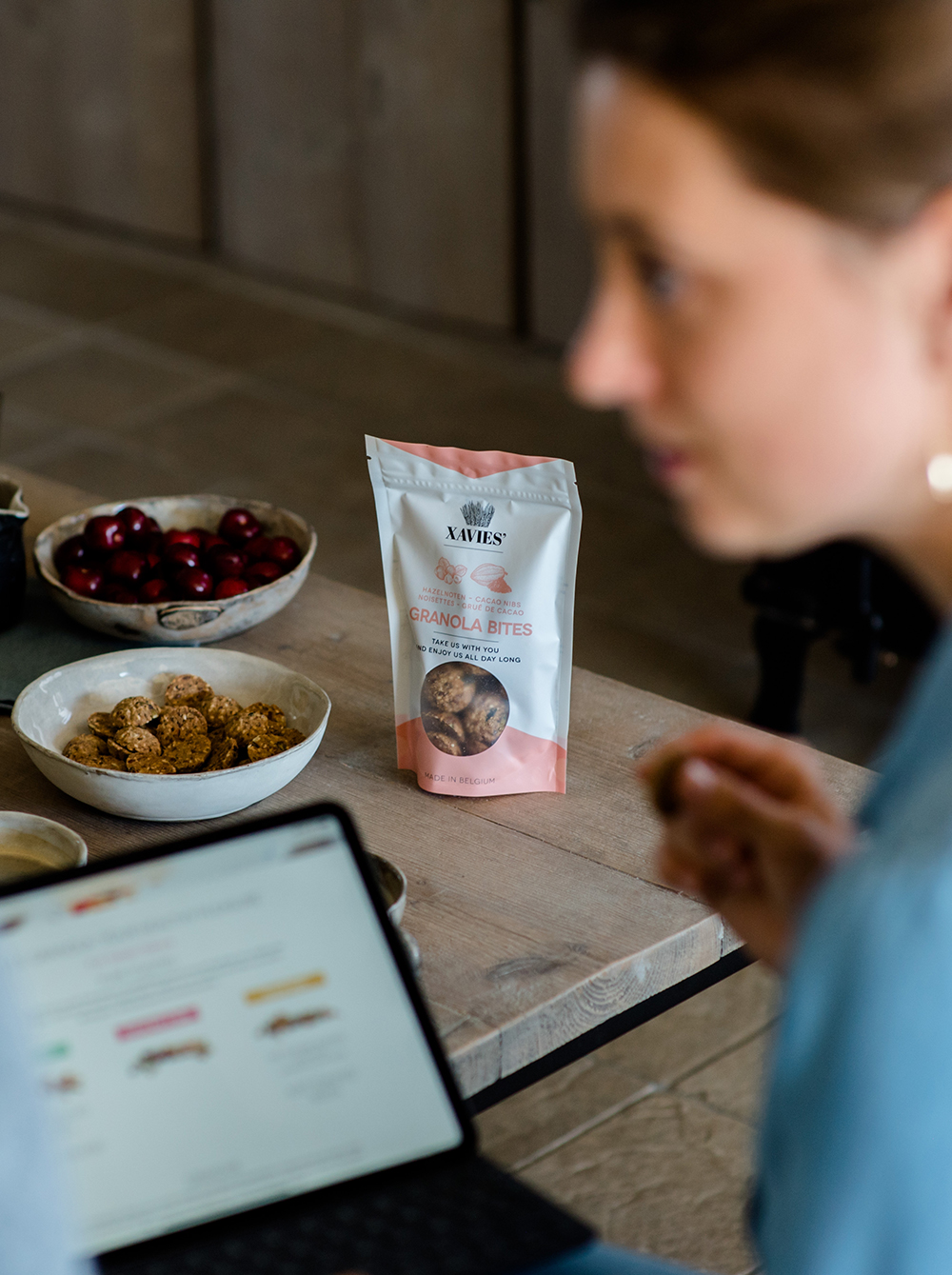 Granola on-the-go? Granola bites!
The ideal snack to go, available in 3 different, delicious flavors.
Almond-Coconut: 0% ADDED SUGAR. The taste of roasted almond with a subtle touch of coconut is delicious as a snack and perfect for a healthy breakfast on-the-go.
Hazelnut-Cacao nibs: The perfect snack! A deliciously crunchy roasted biscuit with whole grains, hazelnuts and a subtle touch of raw cacao
Pecan-Ginger: Do you like exotic? Then the Pecan-Ginger variety is really something for you. Crispy baked pecans with a subtle touch of ginger.