MiniMarieTea - "World's Finest Family Tea"
MiniMarieTea has been taken over by Xavie Battel, owner of XAVIES' Granola and proud mom of little Lucy and Lyia. Xavie always had a passion for healthy food and drinks, especially for breakfast. This is how she started her own granola company, Granoladies, in 2015.
When Lucy was born in 2018 Xavie noticed, more than ever, the lack of healthy drinks for kids. As soon as Xavie heard about MiniMarieTea being for sale, she saw the opportunity to provide a complete healthy breakfast to the world, completed with a nice cup of tea for the whole family.
"MiniMarieTea is a 100% healthy and natural! As opposed to most tea brands, we don't use any added flavors, sugars or colors in our infusions. Our herbal infusions also don't contain any theine or caffein. Only pure, 100% organic dried fruits, flowers and herbs.That's it! That is also the reason why MiniMarieTea infusions never turn bitter. Actually, the longer you steep the infusions, the more flavors will develop and the better your tea will get. Our infusions are 100% safe for children. Finally, a delicious, healthy drink for the whole family!"
MiniMarieTea makes drinking water fun! - try Marie Blue and see the magic happen!
Ice Tea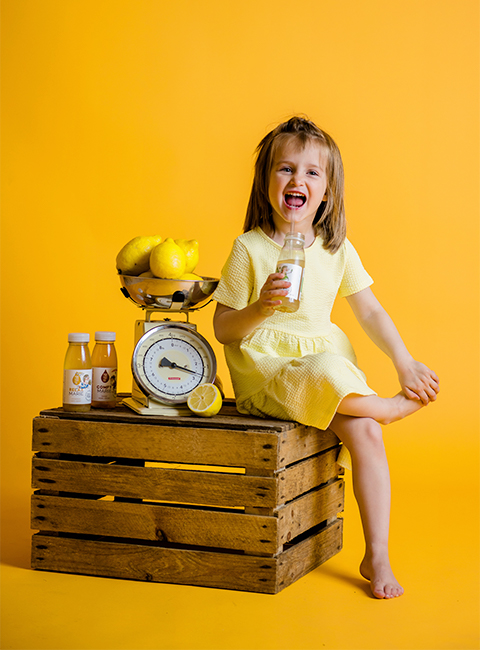 Hey, hello, It's me, MiniMarie.
MiniMarie Ice-Tea.
A healthy pleasure for children.
(Or for the child in everyone.)
I'm not a soft drink. Just a refreshing drink.
But supercool. So that's why I always have to be kept cool.
Because I'm made with real fruit and real herbs.
Without any junk. Without any fuss. Without caffeine and theine. Without fizz.

I'm made with herbs from Kruishoutem.
Their pruned twigs and leaves used to be discarded.
Xavie - she's the one who makes me - thought that was a shame. She started making tea with those cuttings. Adults apparently describe this as 'zero waste'. I simply call that ... clever.
My fruit is from around here.
Grown-ups would call it "local production". Or "short chain".
I myself am not sure what that means. What I do know is that the slow-juicer produces nothing but super-tasty juices. And those are then put into my tea.

What is also clever is that there are no refined sugars added to me. That makes MiniMarie Ice-Tea even more fun when you're out playing, or having a picnic, doing crafts, playing games, celebrating birthdays, enjoying a treat, learning new things...
Super fun, super tasty!
MiniMarie Ice-Tea
Taste them all!