Free shipping above €25 - 10% discount above 5kg - delivery within 5 days - shipping to Belgium, Netherlands and France.
Asian lettuce cups with XAVIES' Toasted Nuts & Seeds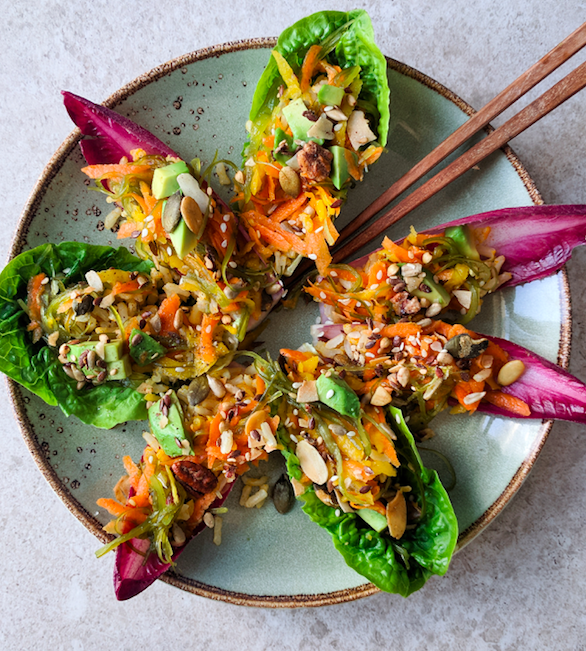 For 16 well-filled cups - as a light lunch for 2 people or a snack for 16 people
Ingredients
2 to 3 little gems or large chicory / red-leaved stumps
8 large tablespoons in boiled rice or quinoa
A big carrot
A small red or yellow beet, raw
50 gr wakame with sesame oil (in the larger supermarket)
A dash of roasted sesame oil
A lime
Half an avocado
6 tablespoons Xavie's Toasted Nuts & Seeds
Optional: spring onion and coriander, for some extra spice

Preparation
-Remove the little gems or chicory / red-leaved stalks and select 16 large leaves. Rinse them carefully and dry.
-Mix the rice with some pepper, salt and turmeric, to taste.
-Grate the carrot and beetroot coarsely, and mix with the wakame and a small dash of sesame oil. Add some salt and lime juice.
-Carefully cut the avocado into cubes. Season with pepper and salt.
-Fill a cup with a small spoonful of rice and a small spoonful of carrot / beet salad.
-Add some avocado cubes to each cup and sprinkle with some Xavie's Toasted Nuts & Seeds.
-Finish with some finely chopped spring onion or coriander.