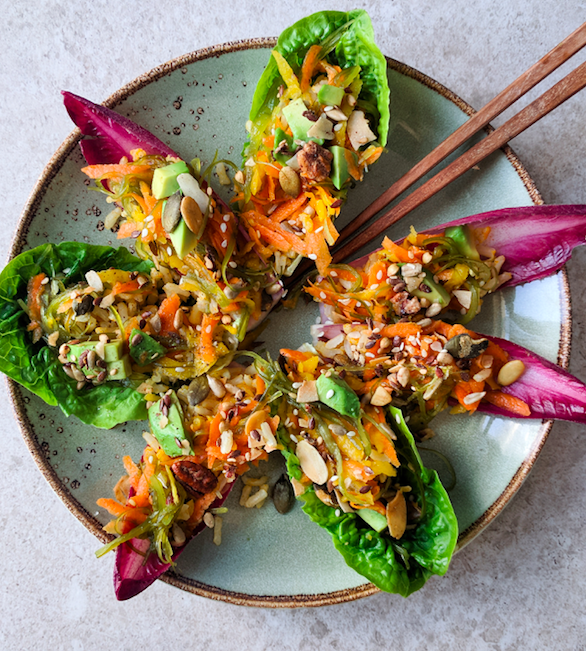 INGREDIENTS
2 to 3 little gems or large chicory / red-leaved stumps
8 large tablespoons in boiled rice or quinoa
A big carrot
A small red or yellow beet, raw
50 gr wakame with sesame oil (in the larger supermarket)
A dash of roasted sesame oil
A lime
Half an avocado
6 tablespoons XAVIES' Toasted Nuts & Seeds
Optional: spring onion and coriander, for some extra spice
PREPARATION
Remove the little gems or chicory / red-leaved stalks and select 16 large leaves. Rinse them carefully and dry.
Mix the rice with some pepper, salt and turmeric, to taste.
Grate the carrot and beetroot coarsely, and mix with the wakame and a small dash of sesame oil.
Add some salt and lime juice.
Carefully cut the avocado into cubes. Season with pepper and salt.
Fill a cup with a small spoonful of rice and a small spoonful of carrot / beet salad.
Add some avocado cubes to each cup and sprinkle with some Xavie's Toasted Nuts & Seeds.
Finish with some finely chopped spring onion or coriander.