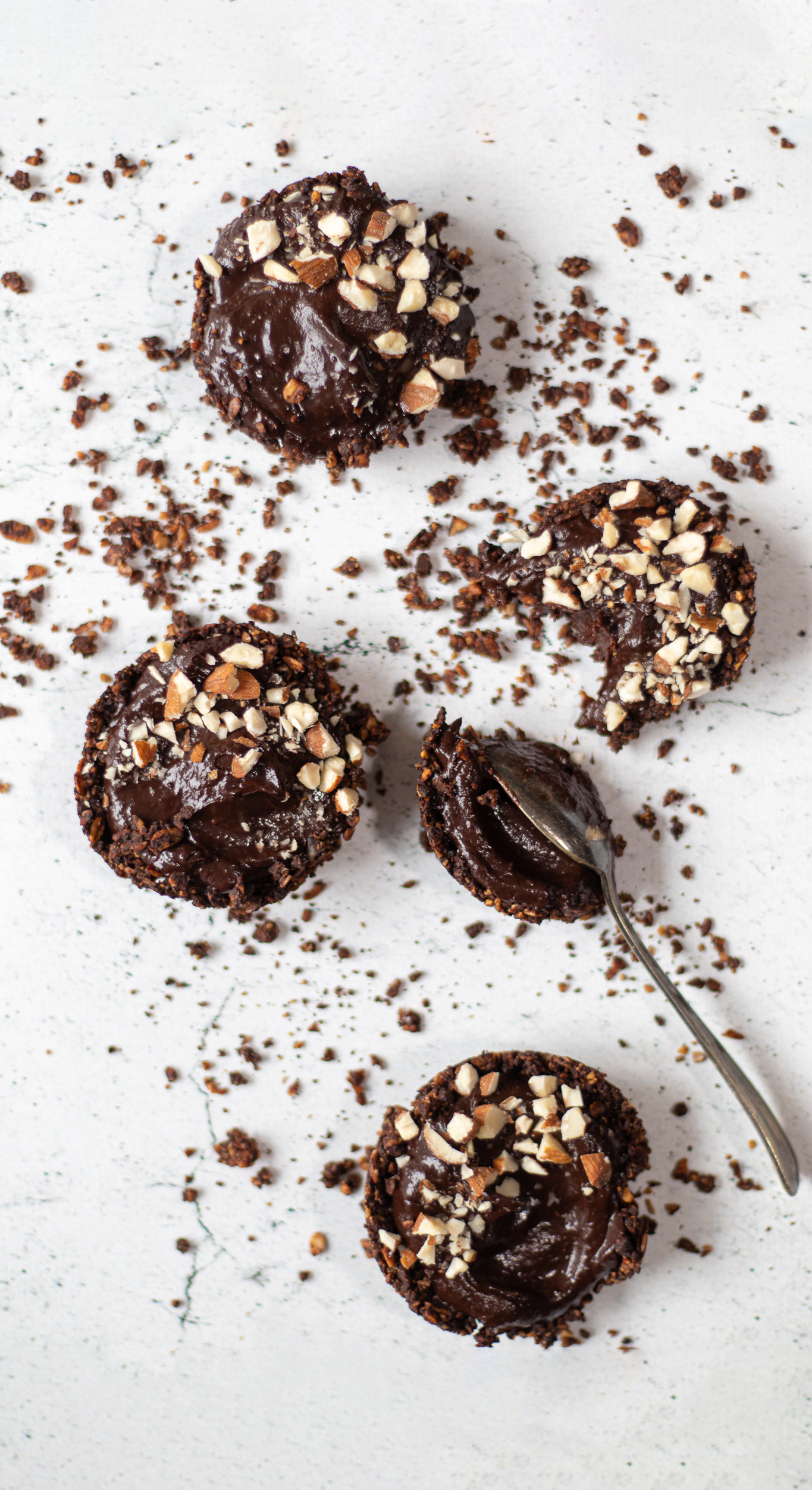 We have another delicious healthy recipe for chocolate lovers. The vegan chocolate tarts with granola bottom are perfect for dessert. Are you curious about how it tastes? Then read on quickly and try it yourself!
INGREDIENTS (voor 6 mini taartjes)
Crust:
223g Nuts Seeds Granola
4 medjool dates (24g)
30g coconut oil
12g cinnamon
25g cacao powder
pinch of sea salt
Chocolate mousse:
½ avocado
½ frozen banana
25g cacao powder
85g agave syrup
1 tsp vanilla extract
pinch of seasalt
Finishing touch:
dark chocolate (70%)
fresh raspberries
nuts or granola
PREPARATION
Preheat the oven to 180°C and prepare a muffin pan by greasing it with coconut oil. Meanwhile, soak the dates in warm water for a few minutes so you can use them later. Put the Nuts Seeds Granola in the blender and blend it finely. Drain the dates, remove the seeds and add them to the blender, along with the coconut oil, cinnamon and salt. Blend again until everything is well blended and the dough sticks together.
Divide the dough equally among the 6 muffin tins and press them firmly into the mold. Do not forget the sides, because we will need them to hold the chocolate mousse in place.
Bake the mini pie bottoms for 10 to 15 minutes in the preheated oven. Meanwhile, make the chocolate mousse filling by blending the avocado, banana, cocoa, agave syrup, vanilla and sea salt in the blender until smooth. Store the mousse in the refrigerator until you are ready to fill the tarts. We recommend doing this in a pastry bag.
Let the pie bottoms cool completely before filling them with the mousse. Once cooled, you can fill them with the chocolate mousse.
Melt the chocolate au bain-marie and spoon into a pastry bag with fine tip, or into a freezer bag from which you cut a small corner. Finish the tarts with fine dashes of melted chocolate and a few fresh raspberries. Sprinkle the chopped hazelnuts over the tarts as a finishing touch.
Let the tarts stiffen in the refrigerator for at least an hour.
SIMILAR RECIPES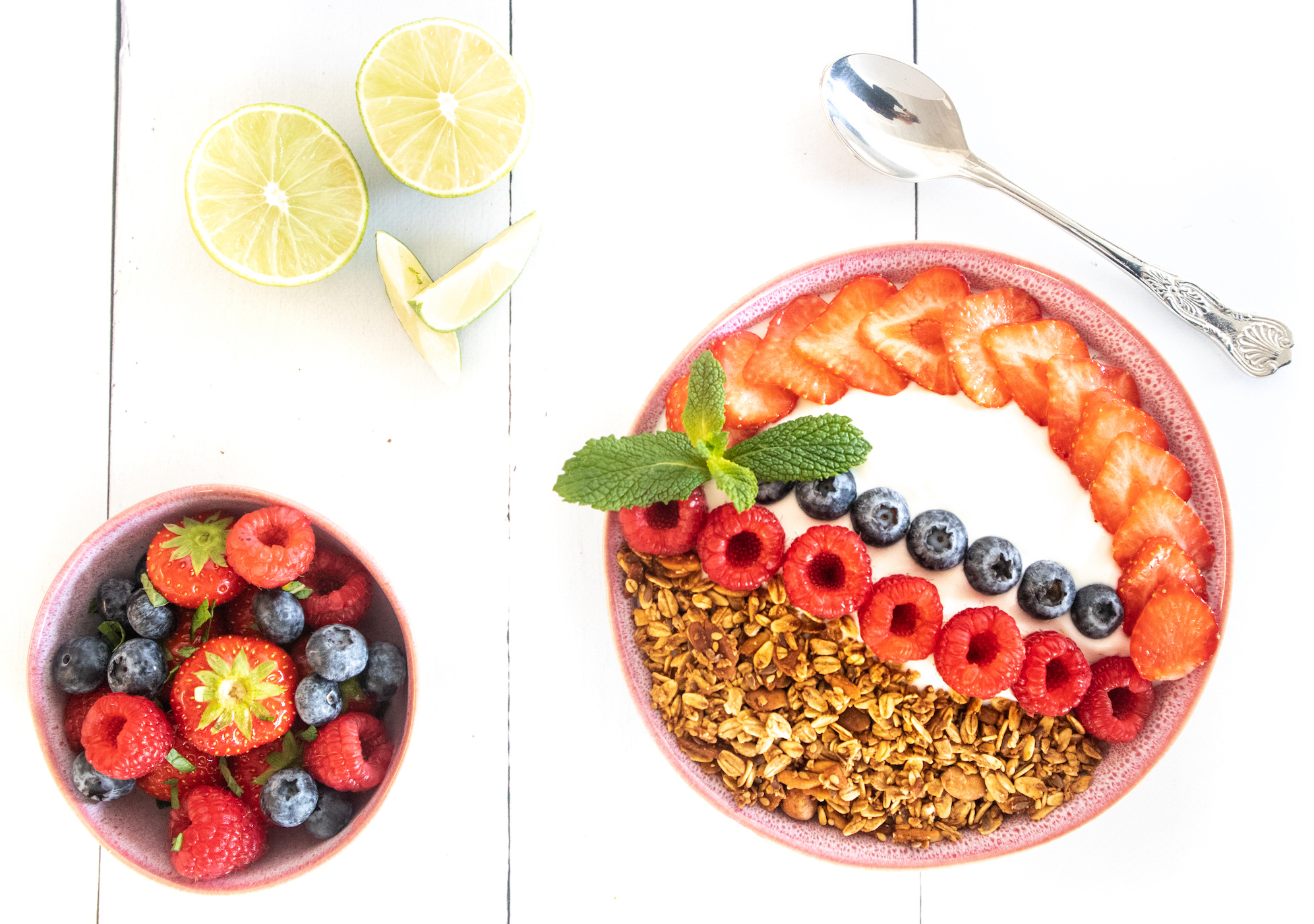 Met Nuts-Seeds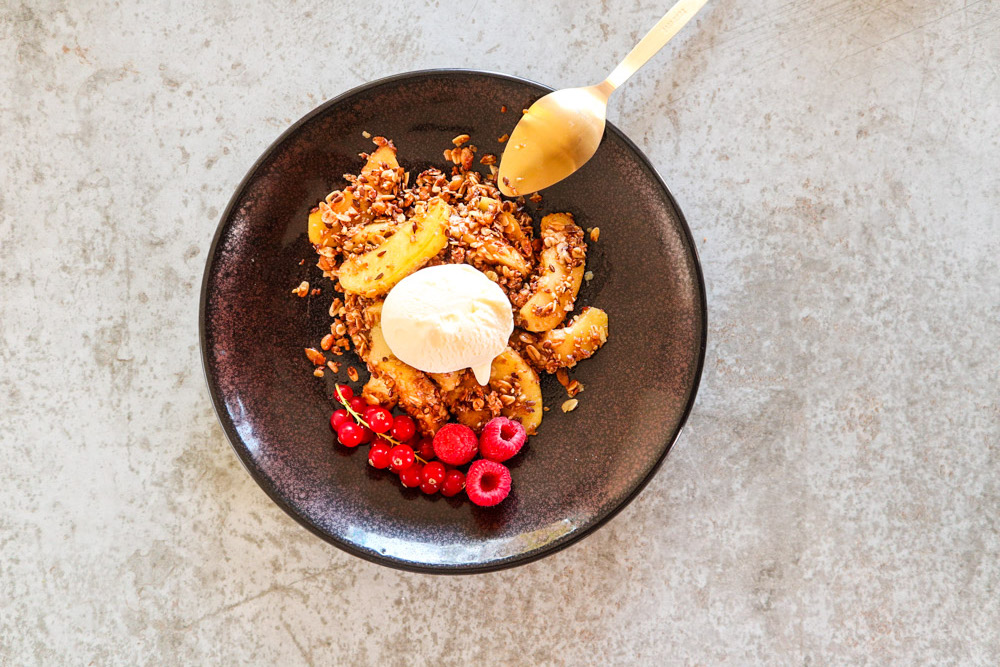 Met Nuts-Seeds